Techno
3 Reasons Will Force You to Buy Nokia Lumia 930
Nokia Lumia 930

you like

but

you still hesitate?

Here are 3

reasons that will

convince

you to buy

.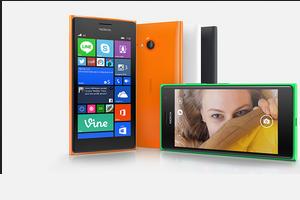 The Nokia Lumia 930 or Lumia 930 Microsoft is the latest high-end Nokia Lumia series smartphone. Equipped with the latest Windows operating system (8.1), it is top notch for fans of Windows Phone. But you're not yet ready to make the step up from Windows family? Here are 3 reasons that will convince you finish.
The

Nokia Lumia 930

, the best

Windows Phone
The Nokia Lumia 930 has a well-worked design. With aluminum edges and back in polycarbonate, we have a smartphone that look great. A very good choice of material that provides excellent grip. Its proportions and curved glass that protects the screen will definitely help. The Nokia Lumia 930 is open to all. You already know the orange and green colors trademark of the Lumia series, it is also in more subtle colors (black and white), to appeal to a larger number.
The

Nokia Lumia 930

,

a display that

will delight your

eyes
The Lumia 930 has a 5-inch AMOLED screen Full HD. Although some of you prefer LCD to its closest color of reality, you can not remain unmoved by the accuracy of the screen Nokia Lumia 930. The ClearBlack technology, which enables the processing of colors, works very well on this screen. To this we must add one of the best concentrations of pixels on the market (441 dpi) and we have one, see the best screen moment.
The

Nokia Lumia 930

, a true C

ameraphone
Cameraphone, you can not know the terminology that describes the smartphones that have a very similar picture quality of digital cameras. The Lumia 930 is clearly one of them. With its 20 megapixel sensor, it is part of one of the best to take pictures. If not capture pixels does not ensure a good quality photo, the Nokia Lumia 930, it works. Image processing is provided by the Pureview software. It highlights contrast images with good sharpness, even in low light. The Nokia Lumia 930 comes to correct the weak point of many smartphones, ie poor picture quality when conditions are bad (movement, low light, against the light …) thanks to a dual LED flash very efficient system. The next time you go on vacation, leave your digital camera at home, the Lumia 930 is largely the case.