ERP & Softwares
Revolutionize Your Business with ERP Systems: The Ultimate Guide
Table of Contents
Introduction
In today's fast-paced business world, staying competitive and efficient is paramount. Enter ERP, or Enterprise Resource Planning. In this ultimate guide, we'll delve deep into how ERP systems can revolutionize your business. From understanding the basics to implementing ERP effectively, we've got you covered. Let's embark on this transformative journey.
Understanding ERP: A Brief Overview
Enterprise Resource Planning, or ERP, is a holistic software solution designed to streamline and integrate various business processes. It acts as the central nervous system of your organization, connecting different departments and functions.
The Benefits of ERP Implementation
Implementing ERP can yield a multitude of benefits for your business. Let's explore some key advantages:
Enhanced Efficiency: ERP automates repetitive tasks, reducing manual labor and the chances of errors.
Improved Decision-Making: Real-time data access empowers better decision-making at all levels.
Streamlined Communication: ERP fosters seamless communication across departments, breaking down silos.
Cost Savings: By optimizing processes, ERP helps reduce operational costs.
Competitive Advantage: Stay ahead of the competition with the agility and insights ERP provides.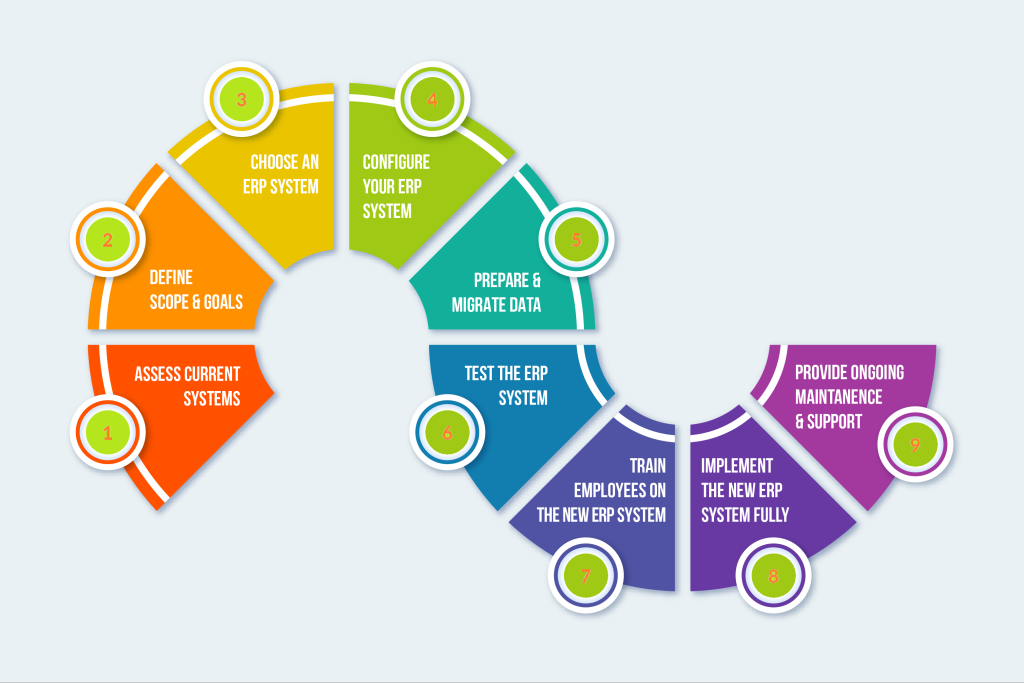 Revolutionize Your Business with ERP: The Ultimate Guide
Now that we've set the stage, let's dive into the nitty-gritty of how ERP can revolutionize your business:
ERP Modules: A Comprehensive Overview
ERP systems consist of various modules, each catering to specific business functions. These modules include (but not limited to):
Finance and Accounting: Manage financial transactions, budgets, and reporting.
Human Resources: Handle HR tasks, from recruitment to payroll.
Supply Chain Management: Optimize your supply chain for efficient operations.
Sales and Marketing: Boost sales and marketing efforts with data-driven insights.
Customer Relationship Management (CRM): Improve customer interactions and retention.
Inventory Management: Keep track of inventory levels and optimize stock control.
Manufacturing: Manage production transactions and reporting.
Assets Management: Keep track of assets and optimize assets control.
ERP Implementation: Best Practices
ERP Implementation is a significant undertaking. Here are some best practices to ensure a smooth transition:
Needs Assessment: Identify your business's unique needs and goals.
Vendor Selection: Choose a reputable ERP provider that aligns with your objectives.
Data Migration: Plan and execute data migration meticulously.
Training: Provide comprehensive training to your staff to maximize ERP utilization.
Continuous Improvement: Regularly assess and refine your ERP system for optimal performance.
ERP Systems and Business Growth
As your business grows, ERP scales with you. Its scalability ensures that it remains an asset rather than a hindrance. Enterprise Resource Planning (ERP) systems play a pivotal role in fostering business growth by streamlining and optimizing various aspects of an organization's operations. These sophisticated software solutions integrate and automate key business processes, ranging from finance and human resources to supply chain management and customer relationship management. By providing real-time access to data and facilitating cross-departmental communication, ERP systems enable informed decision-making. They enhance operational efficiency by eliminating redundant tasks and reducing errors, allowing businesses to allocate resources more effectively.
Moreover, ERP systems support scalability, enabling companies to adapt to changing market demands and expanding operations seamlessly. Overall, ERP systems are a cornerstone of business growth, empowering organizations to enhance productivity, reduce costs, and remain competitive in today's dynamic business landscape.
FAQs (Frequently Asked Questions)
Q: Can ERP be customized to fit my business's specific needs?
A: Yes, ERP systems are highly customizable to adapt to your unique requirements.
Q: How long does it take to implement an ERP systems?
A: The timeline varies depending on the complexity of your business and the chosen ERP solution. On average, it can take several months.
Q: Is ERP suitable for small businesses?
A: Absolutely! ERP solutions come in various sizes, making them adaptable for small to large enterprises.
Q: What are the costs associated with ERP implementation?
A: The costs can vary widely, encompassing software licenses, hardware, consulting, and ongoing maintenance. It's essential to budget carefully.
Q: Can ERP help with compliance and regulatory requirements?
A: Yes, ERP systems often include features to ensure compliance with industry regulations and standards.
Q: How can I measure the ROI of ERP implementation?
A: Track key performance indicators (KPIs) related to efficiency, cost reduction, and revenue growth to gauge the ROI of your ERP system.
Conclusion
In conclusion, Enterprise Resource Planning is more than just software; it's a game-changer for businesses seeking to revolutionize their operations. From increased efficiency to better decision-making, ERP offers a multitude of benefits. By following best practices and customizing your ERP system to suit your needs, you can take your business to new heights. So, embark on your ERP journey and watch your business thrive.