Techno
IFA 2014: Microsoft introduces its two new Selfie Phone lumia 730 and lumia 735
It is also the first major international event after the Microsoft acquisition of Nokia's mobile division.As was expected, Microsoft has unveiled a new smartphone, and it is optimized for selfies. Sefie Phone: a new netiquette of smart talking by lumia 730 and lumia 735.

Rather, they are two different devices: the lumia 730 and the Lumia 735 The difference between these two models (or versions) is that the former has only 3G connectivity (dual SIM) while the other LTE has a (single SIM) connectivity. Apart from this detail, it is the same mobile.
The peculiarity of the

Lumia

730

and 735

lies

in the frontal

camera.

Indeed,

it is

5 megapixels

photo

sensors (

which is pretty

high for a

webcam)

that have

focal lengths of

24 mm,

for

selfies

group

.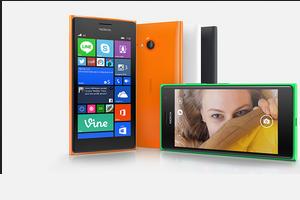 Microsoft also took the opportunity to unveil its "Selfie" application that provides easy access to the front camera and offers some features for editing images. This application is pre-installed on the Lumia 730 and 735, but will also be available for other mobile Windows Phone.
Other specifications
Apart from this small optimization Selfies, the Lumia 730 and 735 are nothing very extravagant:
– Quad-core processor Snapdragon clocked at 1.2 GHz 400
– OLED 4.7 inch 720p
– RAM 1 GB
– Memory storage expandable to 16 GB
– 6.7 megapixel camera on the back
– Colors black, red, white or green
Nevertheless, these two mobile may report interesting money. The Lumia 730 will be priced at around 199 euros against 219 euros for the Lumia 730.