Techno
Doro Liberto 820:Second senior smartphone in IFA 2014 by Doro
Heckled by

some

brands like

Haeir

, Fujitsu

or

Boulanger,

Doro

finally

formalizes

Doro

Liberto

820

Announced for

the

show in Barcelona

is

at the

show in Berlin

that

starts

mobile

marketing.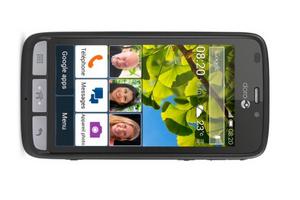 Doro, Swedish label specializing in technology products for seniors, introduced in February, in Barcelona, ​​the Liberto 810 Android smartphone with overlay simplifying (and limiting) the use of Google's operating system. The Liberto 810, formalized in October, is there one year, then beginning its marketing. Meanwhile, the Doro confided in his official press release develop another smartphone, Liberto 820 , without revealing more. A mystery that has remained over until IFA 2014.
Doro
Liberto

820:
The 
concept
that remains the same
Also on the same principle, that of the assistance and grip (with the touch of relief, control of mobile remote assistance troubleshooting, etc.), the Doro Liberto 820 also shows the interface Liberto 810 giving it a facelift. Visually, the product is quite simple, with touches of physical navigation (not touch). But this model is working better and more responsive to current codes.
A data sheet with many confusing elements
Technically, Doro is still short on detail. We just learned that the smartphone has a 4.5-inch screen, an 8 megapixel camera, 1GB of RAM and 8GB of internal storage. No mention of the chipset. It is 3G-enabled, weighs 132 grams, running with Android 4.4 and KitKat should be based on up to 16 hours talk time. The question is also how this handset is offered.
Almost historical actor electronics explained to seniors (for those who need clarification), Doro is experiencing a surge of competition in its own backyard, the "Silver Economy". Recently, several brands have shown interest in the market for seniors, like Haier, Boulanger, Fujitsu, Acer and Thomson. I wish best of luck to Doro Liberto 820.